Who said Melbourne in winter was all about footy and the snow?
Even though the precinct can satisfy all your AFL needs (and NRL at AAMI Park as well), this winter along the river banks promises so much more, including snow !
It's Snowing on South Wharf
South Wharf promotes itself as 'Melbourne's newest oldest suburb', and this winter the heritage listed cargo sheds, which have been transformed into restaurants/bars, is offering free snow time every evening between 5 and 8pm, Friday 1 July to Sunday 10 July.
Dukes Walk will be transformed into a cascading curtain of artificial snow, complete with colourful lighting effects and large Fir trees. The 14 participating restaurants and bars of the precinct are offering special winter drinks and meals to complete the little bit of Europe down by the riverside.
Why not enjoy a great afternoon of bargain shopping at DFO South Wharf, then wander over to the riverfront from 5pm to walk through the snow falls and enjoy a meal, snack or drink. 5pm to 7pm is designed for early family dining, then 7pm onwards is the time for adult dining into the wee hours.
www.southwharfpromenade.com.au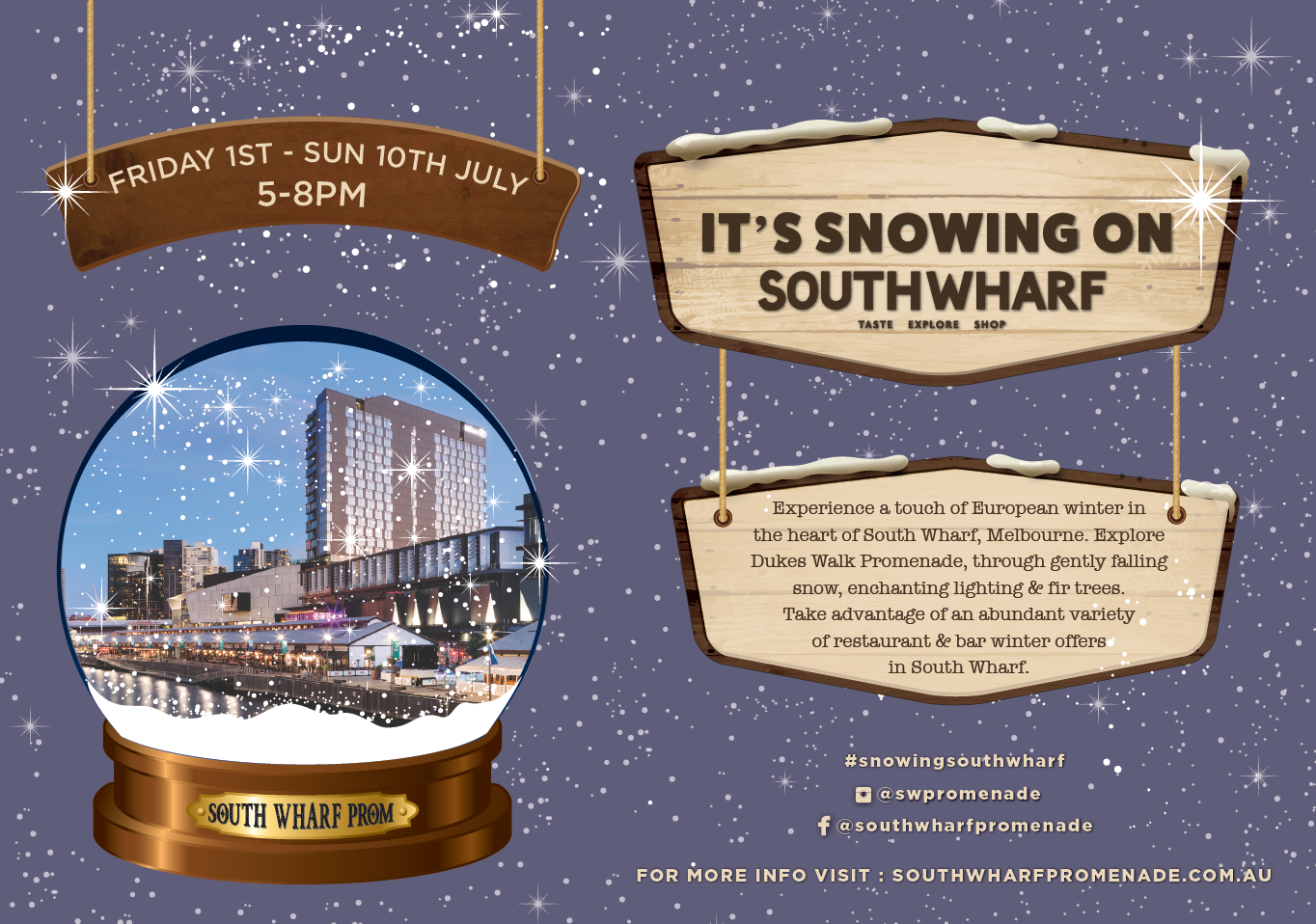 Riverside Quay ice slide

You've heard of water slides, but have you ever experienced an ice slide ?
Riverside Quay is the slither of land between the Exxon building and Ludlow Dining on the Southbank Promenade. From June 25th to July 17th it will be filled with a giant ice slide – 40 metres long and 4 metres high of sheer slippery fun. You don't even have to dress in wet weather gear to enjoy the experience, because you wiz downhill on a special tube.
Ice sliding can build a thirst and appetite, so the organisers have arranged a variety of food trucks nearby to take care of that and, of course, there's a range of quality restaurants alongside the location and Southgate's food court is only 90 seconds walk away.
The ice slide is being run by the operators of nearby Eureka Skydeck and they are providing some great package deals on ice sliding and viewing from Melbourne's leading lookout post.
www.eurekaskydeck.com.au/events/the-variety-ice-slide/
Federation Square's Ice Rink
To complete the icy trifecta of Yarra River Precinct winter attractions, don't miss this year's River Rink at Federation Square. Try out your best Torvil and Dean moves alongside the river from 10am to late at night until 17 July.
However, don't worry if you're still learning to skate, because assistants in the form of 70cm high penguins and seals can be rented from the River Rink Box Office to help support you on the ice.
During the day views of the city and Yarra River form a dramatic backdrop for skaters and as nightfall arrives River Rink in Fed Square transforms into a fairyland of light and colour.
On selected evenings the rink will come to life with themes and live music and if you're looking to recharge your energy levels there'll be a great selection of food and beverages on offer throughout the season.
www.fedsquare.com/events/river-rink-in-fed-square