There's probably only one thing better than drinking a quality Melbourne coffee and that is being able to sip it beside the Yarra River in the late spring or early summer sun.
This month we highlight the best alfresco localities along the city section of the river to slurp the froth off a cappuccino or a craft beer.
When RIVERLAND opened in 2005, local sceptics said that a south facing café bar in Melbourne would never work, but the past decade has proved them very wrong. Riverland's stretch of covered timber decking (and gas heaters for cooler days) looks over the often bustling activity of Melbourne's rowing precinct .You can hear the grunts and the coaches barking instructions from their bicycles as you tuck into an array of snacks and meals, or just a coffee or frothy. So successful has it become that a sister venue PILGRIM BAR has opened alongside, providing 50 metres of continuous alfresco dining and drinking, back-dropped by the historic bluestone vaults.
ARBORY on northbank, below Flinders Street Station, has made waiting for missed or late trains a whole lot more tolerable. The long deck with umbrellas is actually on the site of the former Port Melbourne rail line. Melburnians have flocked to its simple, buzzy recipe of outdoor fun, with great views across the river to the Theatres spire, Hamer Hall and Southgate. The shade trees and umbrellas provide plenty of respite on hot days and into the night. A wide range of drinks and meals are available, and your ride home is only ever a few metres away.
While the city section of the Yarra is not recommended for swimming, the next best thing on a hot day is to sit on PONYFISH ISLAND surrounded by the gently swirling waters of the river. You can just about dip your toe in the water, and the comings and goings of the boats and small ferries around you provide plenty of entertainment. Hearty snacks rather than full meals are the go at this place, but most people head in for refreshment of a liquid kind as well as the sheer vibe of the place. It's small and can be crowded in peak times, but it's always fun and there's a high railing to stop you falling in!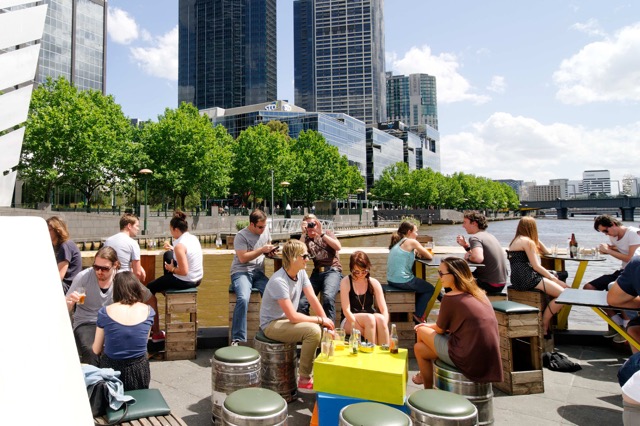 WHARF HOTEL on northbank, just across the water from the Melbourne Exhibition Centre mixes a traditional watering hole with a classy outdoor setting. It overlooks the boating activity at the western end of the Yarra. Outside there are plenty of comfy chairs, stools and sofas, while inside it's more intimate, with the décor featuring giant photographic murals of the site when it was a major wharf of Melbourne's maritime past. Full meals and snacks are always available, with very reasonable lunch time options.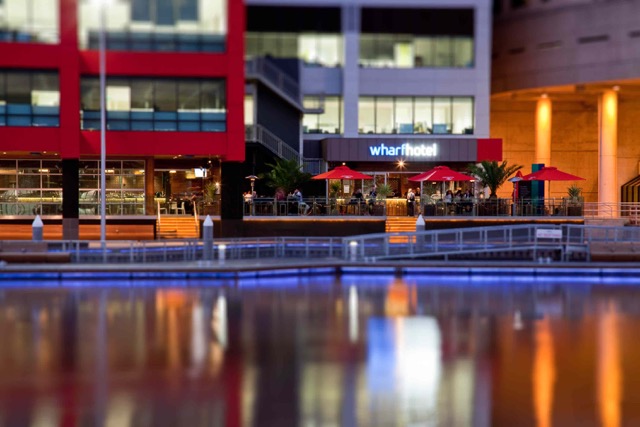 SOUTH WHARF PROMENADE is 200 metres of pure, unadulterated alfresco dining and drinking. Twelve restaurants and bars are tucked away inside the 1880s cargo sheds, which have been painstakingly restored to what they looked like in 1920. Many of them offer absolute river frontage plus north facing sun, which makes a glass of pinot gris or amber ale all the more appealing on a warm day. You're truly spoilt for dining choice along this strip, with snacks and meals available from breakfast to around midnight. For a café experience, try Charlie Lovett South Wharf. For a more intimate bar experience try Plus 5, and in the bigger league are Boatbuilders Yard, Munich Brauhaus and General Assembly. Check out the website for all the dining options, including some great Thai and Japanese.