Once the eleft-over Chrissie food has been eaten and the post-Christmas sales have been done, the harsh reality faced by many families is what to do with the kids for the next four weeks. Here are some thought starters for spending January in the Yarra River Precinct with the little, and the not-so-little, tackers.

This time of the year Arts Centre Melbourne on St Kilda Road really excels with a great variety of activities and performances to occupy a wide range of ages. Between 2 and 12 January a manic and magical fusion of circus and Mozart's wonderful music comes to the stage in "Wolfgang's Magical Mystery Circus". This one hour performance is suitable for ages 4 upwards and is performed by Brisbane-based Circa Contemporary Circus, which has performed in 39 countries to over a million people since 2004. Wolfgang Amadeus Mozart appears on stage amid a storm of powder, tumbling and twirling. There's also the free Invisible Orchestra, which further extends the day's outing.
https://www.artscentremelbourne.com.au/whats-on/2019/kids-and-families/wolfgangs-magical-musical-circus
https://www.artscentremelbourne.com.au/whats-on/2019/kids-and-families/invisible-orchestra
Running right through January at Arts Centre Melbourne is "Peter Pan Goes Wrong" . It turns the J.M. Barrie classic, Peter Pan, into a joyous masterclass of physical comedy and general disaster. The two hour comedic performance, suitable for all ages, was nominated for an Olivier Award for Best New Comedy.
https://www.artscentremelbourne.com.au/whats-on/2018/theatre/peter-pan-goes-wrong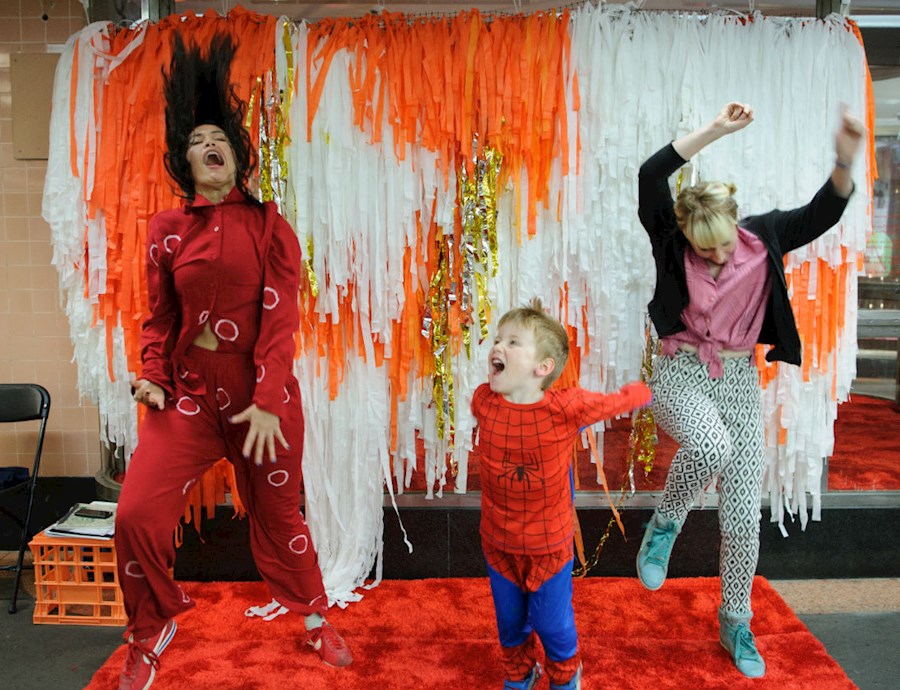 Your budding child dancer (aged 8+ years) may love the special one-on-one dance workshops being held between 15-18 January at Arts Centre Melbourne. The session starts with a conversation about who you are – your passions, personality and community – and then you and your choreographer Amrita collaborate on a signature movement that expresses who you are, and perform it together. At the end of each day, Amrita will present a free mini-performance based on the dance moves dreamed up in that day's session. Each dance will be performed in a different location around Arts Centre Melbourne. https://www.artscentremelbourne.com.au/whats-on/2019/kids-and-families/a-call-to-dance

You may not be familiar with Smallfoot, but it's highly likely that your kids know about Disney's onscreen characters. SEALIFE Melbourne has dedicated its January holiday period to Smallfoot Adventures. The famous yetis, Migo and Meechee appear in person at SEALIFE every day: 11:30am - 11:50am Migo; 12:30pm - 12:50pm Meechee; 1:30pm - 1:50pm Migo; 2:30pm - 2:50pm Migo and Meechee; 3:30pm - 3:50pm Meechee

For the price of admission, each child gets a character mask and activity book upon entry, and they can then:
join an Icy Adventure Trail and head to four mystery line drawing stations to reveal a special picture
Jump into synthetic snow on Level 1 near the crocodile viewing area
Test their skills in the Ice Cube Throwing Game
Crawl through an Igloo to arrive at a snowtastic photo opportunity
Check out the snow and the new interactive floor in the Penguin Playground
https://www.melbourneaquarium.com.au/tickets/?
There's also a heap of educational and experiential school holiday programs at SEALIFE that are such fun that kids don't realise they are learning at the same time. Check out the Ocean Rangers program for kids aged 7-12, and the Aquarist for A Day program for teenagers. https://www.melbourneaquarium.com.au/tickets/school-holiday-programs/
Looking for a holiday activity that will keep the children and hubby entertained at the same time, then the National Sports Museum at the MCG never fails to satisfy. Located inside Gate 3, the museum is filled with interactive zones, priceless sporting artefacts and 3D holograms, covering just about every conceivable Aussie sport. Between 7 and Friday 11 January, kids have the opportunity to step into the shoes of professional sportspeople as they experience the real-life match day experience of various current AFL, AFWL players and cricketers. They will share their stories and offer insights into the routines and activities that take place before, during and after a game – from the player change rooms during warm-up to the tense times spent in the thick of the action.

Sessions will depart from the inside of Gate 3 and run for one hour at 10.30am and 12pm each day. https://nsm.org.au/visit/holiday-activities/
For a run-down of what is available for young and old in the Royal Botanic Gardens this January, visit our other blog post http://yarrariver.melbourne/blog/312/beat-the-heat-at-royal-botanic-gardens-this-summer
And, for a day-by-day run-down on what's happening around the Yarra River Precinct, simply visit www.yarrariver.melbourne/events