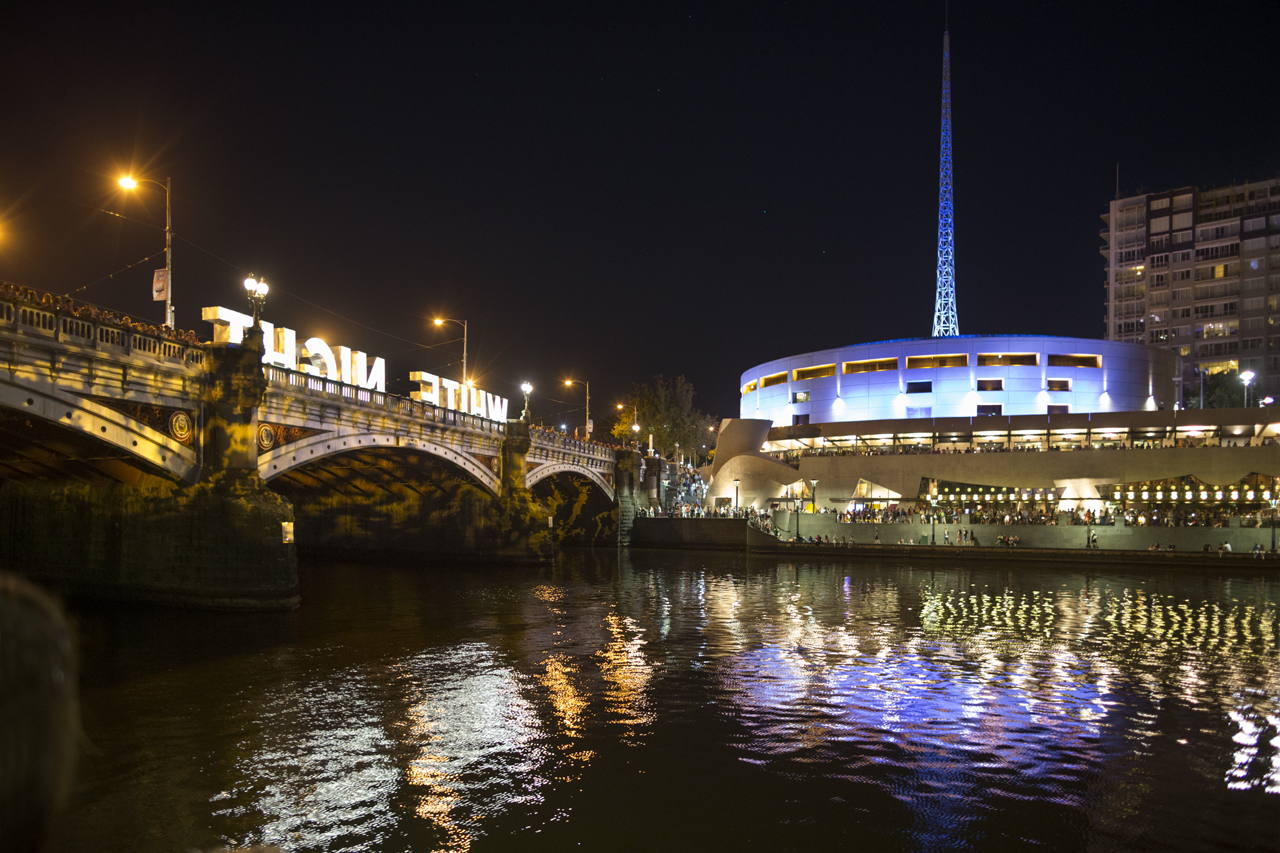 The Southbank line-up for February 18th's White Night has been revealed and Southbank features prominently in the highlights:

Southbank Promenade
Inspired by the echinocactus family, Echinodermus' shiny leaves stretch to 11m tall, looking like a giant firework frozen in time. Slender and surreal with its glowing fruits swaying in the wind, this massive tree-like sculpture depicts a striking landscape.
Alexandra Gardens
As you're strolling the city under the cloak of darkness, you see it, shining in the distance: a large neon word, LOVE, with an oversized arrow pointing you in a direction you weren't necessarily going. It piques your curiosity and beckons you to explore.
Inspired by nature and evoking giant tufts of verdant, futuristic grass, Herbum Follus is a surreal and dreamlike spectacle of humour and poetry that invites passers-by to immerse themselves in a stunningly beautiful world signifying the joy of living and happy memories of childhoods spent frolicking on the lawn.
Illuminated in stark white light, five leviathan lagomorphs will take over Alexandra Gardens for the night. Intrude is a luminous, humorous installation, but don't be fooled: while the adorable whoppers may look like the fairytale animals from our childhood, a furry innocence frolicking in idyllic fields, their cuteness is a facade for a more serious environmental message. Like their real-life counterparts, these huge hares are intruders, their jumbo size referencing 'the elephant in the room': the ecological disaster wrought by feral invaders that is vast but easily ignored.
Peony is a collection of beautiful flowers that gracefully stretch their delicate white petals towards the sky. At night, the stamen at their hearts glow blazing red, brightening up their petals and scattering a warm light throughout. Below, the stems of the plants are subtly enhanced by a diffused lighting that also invites passers-by to sit around the flowers and enjoy the view.
Axiom is an edifice of light, sculpted from a matrix of more than 700,000 LEDs. Its digital skin and multi-dimensional form encompasses three triangular, symmetrically aligned archways, presenting a canvas for a series of video animations designed to embody and envelop its surfaces and contours.
Craspedacusta sowerbyi are freshwater jellyfish. Also known as hydro medusae, or water medusas, they are elusive, beautiful and mysteriously alien. Inspired by these lustrous creatures, John Fish has created a giant, majestic sky jellyfish, her tentacles gracefully flowing down from her dome-shaped bell head, from which coloured light pulsates in flickering trails that illuminate her body, while haunting yet melodic sound creates a siren song impossible to resist.
Birrarung Marr
Born from the idea of hope that all people can come together for what is truly important, the White Knight Messenger is an awe-inspiring, 5.5-metre puppet.
NGV St Kilda Road
A playful reinvention of the suburban car wash is the concept behind the 2016 NGV Architecture Commission built in the NGV's Grollo Equiset Garden this spring. Designed by Melbourne-based M@ STUDIO Architects, the ephemeral structure is titled Haven't you always wanted…?
Full Program: https://whitenightmelbourne.com.au/program